Looking back this was a fairly average year in anime. There was a lot of crap of course but there were also a fair number of shows that were well-made and entertaining.
Outstanding Anime of 2013
Shin Sekai Yori (started Fall 2012) (Crunchyroll) is a solid adaptation of a serious science fiction story. It is far more sophisticated than what usually passes for sci-fi on television. This may be too dark for some tastes and is definitely not suitable for young children. Older viewers may find it very rewarding.


The Eccentric Family (Crunchyroll) is a splendid adaptation of an uproarious comic novel. I can recommend this without reservations to everyone (except perhaps for very young children.)
It's probably no coincidence that both of the "outstanding" shows are adaptations of novels (as opposed to the more common adaptations of manga, light novels or video games.)
Notable Anime of 2013
I praised 2012's Chihayafuru (Crunchyroll), an unusual shoujo sports anime. The second season is just as good, a must-see for anyone who liked the first.
From Up on Poppy Hill is not the best movie that Studio Ghibli ever released, but just about anything from Ghibli is worth seeing.
Gargantia on the Verdurous Planet (Crunchyroll) is a mecha show with a difference. It has all the usual implausibilities of the genre but it is written at a much higher level.
The premise of Gingitsune (Crunchyroll) sounds pretty routine: the story of a young shrine maiden and her fox-spirit friend. It is a low-key unpretentious show but the subtle execution makes it a delight to watch.
Red Data Girl (Funimation) is a shoujo wish-fulfillment fantasy, but much better written than most. It has stronger-than-average characters and an intriguing premise based on decent historical research/ It also has some extraordinary scenery. However it doesn't feel like a complete story. Here's hoping for some additional seasons.
Tamako Market (Anime Network) is lightweight but a lot of fun–and it showcases the outstanding animation talents of Kyoto Animation.
Watamote (Crunchyroll) is the story of a very troubled teenage girl whose problems are mostly of her own making. It somehow manages to be both disturbing and funny.
Reserving Judgement
The following shows not eligible for this year's list since they are only half over. If they end well they may make it to next year's list.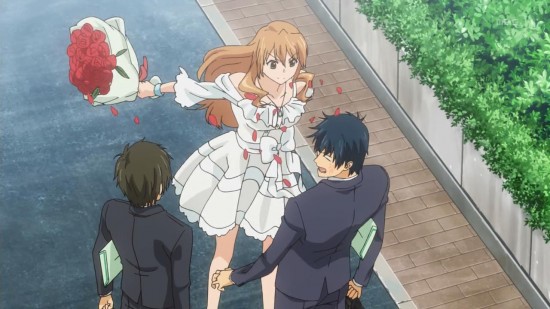 Golden Time (Crunchyroll) is more fun than any romantic comedy about people with significant character flaws has a right to be.
Nagi no Asukara (Crunchyroll) could make it to the "Outstanding" list if the second half is as good as the first.
Disappointing Anime of 2013
As always, this category is not for run-of-the-mill mindless crap. Only a show that showed real ambition but failed in execution can qualify.
Kyousougiga (Crunchyroll) was raucous and confusing, full of literary quotes and obscure symbolism. Actually this might have been very good if it had more likeable characters and a more satisfactory ending.
Maoyuu Maou Yuusha (Crunchyroll) started with and intriguing premise about bringing Enlightenment values to a dark age fantasy world. It ended up as an incoherent mess, partly because they tried to cram too many of the light novels into a single cour.
2010's OreImo (Crunchyroll) may not have been a class act but it was a hilarious takeoff on the excesses of pop culture. The second season in 2013 was something else entirely. It's common for sequels to disappoint but it is rare to see one this bad. Were the writers deliberately aiming for the worst possible ending?
Sasami-san@Ganbaranai (Anime Network) included fascinating elements from classical Japanese mythology. Ultimately however it failed to provide a satisfactory story.
Interesting But Not to My Taste
Free!–Iwatobi Swim Club (Crunchyroll) featured outstanding animation effects, proving once again that Kyoto Animation is unsurpassed among TV studios. However the story seemed to be mainly an excuse to show buff young men in swimsuits. Now I've never objected to tasteful fan service and turnabout is certainly fair play, but even if these were girls I would want more in a show than that.