Here are some photos that I think are interesting, but which don't seem to fit anywhere else.

Anime figures at the Kyoto train station.

Kyoto Tower. Instead of copying the Eiffel Tower they went for a futuristic look. (Futuristic from the standpoint of the early 1960s anyway.)

Whenever he was filming in Kyoto, Akira Kurosawa liked to stay at the Ishihara Ryokan. They still display some of his memorabilia.

A bunraku performance. This is a type of puppet show in which the puppets are manipulated by black-clad puppeteers.

Miyako Honma demonstrates the traditional arts of the tea ceremony and kimono making.

The Kyoto Handicraft Center is full of shops selling various crafts and artworks.

A damascene craftsman.

The chouzuya at the Okazaki Shrine features a large figure of a rabbit. This may have something to do with the fact that the shrine houses the god and goddess of easy childbirth.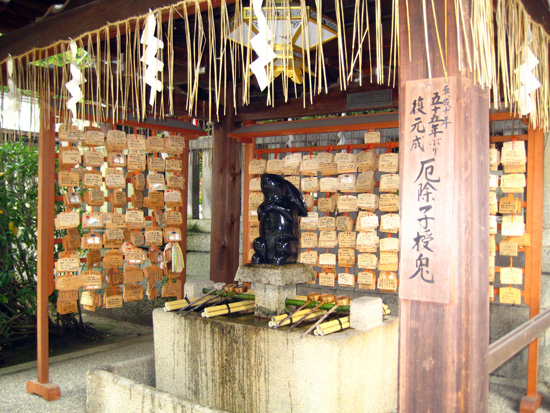 Red pandas ("firefoxes") at the Kyoto zoo.


Although the red pandas seem happy enough, this zoo is not really world-class. In particular, I don't think the larger animals have enough space.