It seems that it's more or less a requirement for experienced anime bloggers to complain that the current season and the current year are the worst ever, a far cry from the glory days of the past. I'm pretty sure that 5 years from now bloggers will be bemoaning the dreadfulness of the 2019 season, as compared to the glory days of, say, 2014. Each year brings us a mountain of crap that is quickly forgotten, plus a few shows that people will remember fondly and even rewatch in future years.
So as usual in my annual review I will mostly ignore the shows that failed (and especially those that didn't even try) and focus on shows that provided solid entertainment and may have some chance of being remembered fondly in future years.
Outstanding Anime of 2014
Season 2 of Mushi-shi (Crunchyroll) is a rare example of an anime that aims to be high art. There is no middle ground here: such a show always seems to end up either great or unwatchable. Fortunately this one continues to hit the "great" mark.
Nagi no Asukara (Crunchyroll) (started Fall 2013) had some slow moments but looking back I can't think of any other show in the past year that affected me as strongly. What starts out looking like a whimsical fairy tale turns into a powerful work of high fantasy.
Amagi Brilliant Park is just silly, but it is inspired silliness, perfectly executed and hilarious from beginning to end.

Notable Anime of 2014
Noragami (Funimation) is the wild and wooly story of a "stray god" and the people who put up with him.
The second season of Chuunibyou (Crunchyroll) continued to be very funny and sometimes touching.
Hoozuki no Reitetsu (Crunchyroll) is an offbeat, fast-paced romp through Japanese folklore, featuring the Hell's chief operating officer.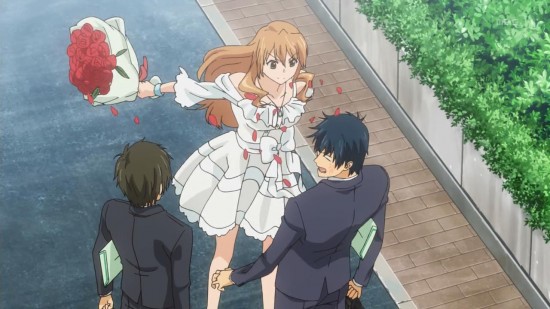 Golden Time (Crunchyroll) (started Fall 2013) is not to everyone's taste, what with its whiny hero and self-centered heroine. But I found it an intriguing story which posed some deep questions about the nature of the self.
The World is Still Beautiful (Soredemo Sekai wa Utsukushii) (Crunchyroll) is a lightweight but fun shoujo fairy tale about a spunky princess bride. (I think it suffers by comparison to the darker and more realistic Yona of the Dawn, but that just goes to show that this has been an unusually strong year for shoujo anime.)
One Week Friends (Isshuukan Friends) (Crunchyroll) was a surprise: a low-key romance that handled a potentially maudlin subject with a suitably light touch.
Barakamon (Funimation) is the story of short-tempered calligrapher exiled to a remote rural island. It managed to be both classy and funny, but I think it might have been even better if the creators had been given more episodes to work with.
The second season of Sword Art Online (Crunchyroll) is a substantial improvement on the first. It adds a lot of depth to what started out as a lightweight shounen adventure story.
Blue Spring Ride (Ao Haru Ride) (Crunchyroll) is an unusually thoughtful and insightful shoujo romance.
…and since this seems to be the year for shoujo, how about a parody of the whole genre? Monthly Girls' Nozaki-kun (Gekkan Shoujo Nozaki-kun) (Crunchyroll) manages to work in a hilarious take-off on just about every major shoujo trope.
Deferring Judgement
As always I won't give an "Notable" or "Outstanding" label to a multi-cour series that has just started and is continuing next year. However Yona of the Dawn (Akatsuki no Yona) (Crunchyroll) is already a top contender for next year's rankings. This is not just a shoujo fantasy-adventure. It is (so far) a first-rate high fantasy story for any demographic.
Anime Movies
The Wind Rises (Kaze Tachinu) is probably the last movie that Hayao Miyazaki will ever direct. It is a worthy end to a legendary career.
Notable Anime Shorts
I don't usually pay much attention to "shorts," anime series with episodes of 5 minutes or less. They're usually pretty forgettable. However this year had several examples that seemed particularly good. I'll put them in a category by themselves since it seems unfair to compare them to longer-format shows.
Pupipo! is a rather charming quirky little horror comedy about a troubled girl who can see spirits and adopts an odd little spirit pet.
Tonari no Seki-kun: The Master of Killing Time (Crunchyroll) is a one-joke comedy that pulls off the seemingly impossible feat of staying fresh and funny through 21 episodes. (The short format is an obvious advantage when trying something like this.) A boy finds incredibly inventive ways to goof off during class. The girl who sits next to him disapproves but can't help being drawn into his games. (I think the title should obviously be translated as "My Neighbor Seki-kun" by analogy with "My Neighbor Totoro.")
I expected nothing good from I Can't Understand What My Husband Is Saying (Danna ga Nani o Itteiru ka Wakaranai Ken) (Crunchyroll.) A woman marries a man who is an anime otaku and "can't understand what he is saying." That sounds like yet another self-indulgent celebration of the excesses of otaku culture.
Actually it has almost nothing to do with otaku culture. It's a whimsical but sensitive story about two shy and awkward people who meet, somehow hit it off, get married and find that they still have a lot of growing up to do. With 13 3-minute episodes there's hardly enough material for even one regular anime episode, but it's sweet and touching as well as amusing. This one actually leaves me wishing for a longer-format version.
Interesting but not to my taste
Gugure! Kokkuri-san (Crunchyroll) seems like a high-quality dark comedy about a lonely girl who is haunted by a lonely fox spirit (and other less-reputable spirits.) What kills this for me is that I have a low tolerance for jokes about pedophilia, and this has too many for me to stomach. (Obviously such jokes are considered more acceptable in Japan, as indeed they were in America a few decades ago.)
This show does have a lot of fans, and probably deserves them. As always you have to take my reviews with the understanding that they reflect my personal tastes, which may not match your own.
Special "What Were They Thinking?" Award
As I said, this has been a pretty good year for shoujo anime. However they managed to come up with one show that exemplifies all the worst characteristics of the whole shoujo demographic.
Wolf Girl and Black Prince (Ookami Shoujo to Kuro Ouji) (Crunchyroll) is basically an advertisement for abusive relationships. It's all about how abusive relationships are great and it's the girl's responsibility to make them work. (The abuse shown is emotional rather than physical, but still…)
Unfortunately this sort of thinking meshes well with the Japanese ideal of makoto (sincerity) but this is still pretty extreme even by Japanese standards. I think shoujo publishers have a responsibility to guard against this sort of excess since so many of their readers are young and impressionable.