Takayama is noted for its spectacular Spring and Autumn Festivals which feature huge wooden floats: centuries old, brightly painted and intricately carved. Between festivals the floats can be seen in this museum.

Since the festival is a religious observance, the museum is actually a Shinto shrine and is staffed by mikos.

The floats are displayed behind glass walls in a cavernous hall. The costumed mannequins represent the people who pull the floats during the festival.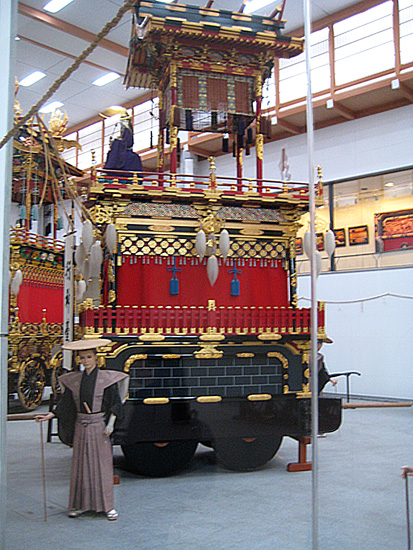 The carved human figures are actually puppets and perform little routines when the floats stop at street corners.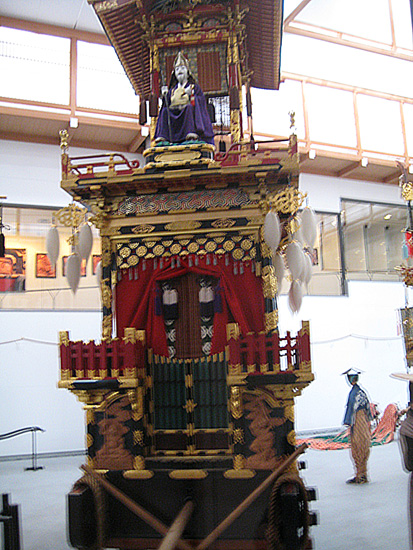 Traditional clothing worn during the festivals.

Many shrines have koma-inu (lion-dogs) as symbolic guardian animals.

At this time of year many shrines have displays of chrysanthemums.

All shrines (and some temples) include at least one chouzuya (ablution pavilion.) Worshipers are supposed to purify their bodies before praying by washing their hands and mouths.

This one has a dragon.

Next to the Floats Exhibition Hall is the Sakurayama Nikko Hall, which contains 1/10-scale replicas of the buildings of the Toshogu Shrine in Nikko. The miniatures are in some ways more impressive than the originals since they let you see the structure as a whole, instead of small parts of it close up.