Some people are fanatically devoted to this series. A few strongly dislike it. I fall somewhere in between. It's not the greatest anime ever made, but I think it is pretty good; indeed the best example of its genre.
(The genre in question is "Seinen or Shounen Comedies about High School Girls Based on 4-koma Manga." This is a larger category than you might expect.)

Title

Azumanga Daioh: The Animation [

1

]

Genres

Comedy, School

Demographic

Seinen

Contents

26 Episodes on 6 DVDs

Languages

English, Japanese with subtitles

Based on

A 4-koma

manga

by Kiyohiko Azuma

Director

Hiroshi Nishikiori

Character Design

Yasuhisa Kato

Chief Animation Director

Takashi Wada

Animation Studio

J.C. Staff

Broadcast

TV Tokyo, 2002

Region 1 Publisher

ADV Films
It is easy to see that this anime originated in short humorous comic strips. Each episode consists of a sequence of short comedy sketches. These are pretty funny in themselves, but on closer examination an overall story emerges: a rather affecting story about a group of misfits who gradually become friends and gain strength from their friendship. This is what gives the series its enduring appeal.
Parental Advisory
This series is not aimed at young children, but most of the material is fairly innocuous. Younger children may be bored but will probably not be upset by it.
There are two issues that may concern parents. One girl has a fairly innocent crush on another girl. And then there's Mr. Kimura, who is enough to unnerve anyone with a daughter. Probably American children old enough to understand what is going on will not be too shocked, but this might be a good opportunity to have a talk about how to deal with inappropriate behavior by a teacher.
Characters
Yukari Tanizaki
("Yukari sensei") is an English teacher, and serves as the homeroom teacher for most of the student characters. She is energetic, impulsive and irresponsible–not an ideal role model. The fact that the students call her by her first name suggests that they like her but don't really respect her.
Minamo Kurosawa
("Nyamo") is Yukari's long-suffering best friend. She is quiet, friendly, sensible and responsible–just about the opposite of Yukari. She teaches P.E. and is respected by the students.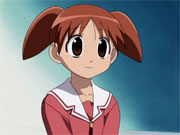 The youngest student in Yukari's class is
Chiyo Mihama
("Chiyo-chan"), a child prodigy who has skipped five or six grades to enter high school at the age of ten [
2
]. She's very cute and frighteningly smart. Even the high school classwork is fairly easy for her. However physically and emotionally she is still only ten years old, so being in high school is bound to be difficult. Fortunately she has a cheerful spirit and is not easily discouraged.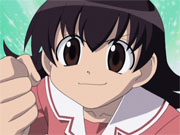 Tomo Takino
is a troublemaker: She is energetic, impulsive and irresponsible.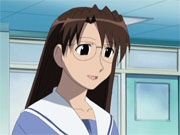 Koyomi Mizuhara
("Yomi") is Tomo's long-suffering best friend. She is quiet, friendly, sensible and responsible. (The parallels with the Yukari-Nyamo relationship are obvious.) Yomi studies hard with mediocre results and tends to obsess about her weight.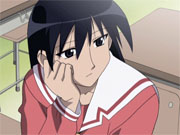 Sakaki
is tall, statuesque and taciturn; a capable student and a natural athlete. The other girls find her very intimidating and hardly dare to speak to her. Actually she is shy and lonely. She loves animals. Unfortunately they don't love her.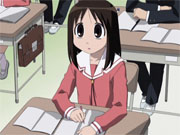 Ayumu Kasuga
("Osaka") is a transfer student. She tends to struggle in school. She has trouble concentrating in class and her mind often wanders down mysterious paths. She is good at problems requiring non-linear thinking, but these don't come up in class very often.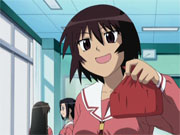 Kagura
loves sports and is the only girl who can compete with Sakaki on nearly equal terms. She is less gifted academically.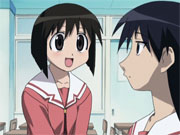 Kaorin
is a quiet girl who follows Sakaki around like a lost puppy.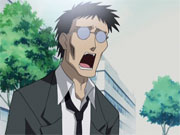 Mr. Kimura
is the main reason that some people hate this show. He teaches Japanese Literature and lusts after his female students. (He doesn't actually do anything that would get him fired. He just stares at them and makes suggestive remarks–all doubtless completely deniable.)
His appearance is particularly disturbing: he looks like a walking corpse, with a cadaverous face, sunken eyes and a slack jaw. The reason, of course, is that like everything else in this series he is shown from the girl's perspective. They are pretty sure that they know what he is thinking and he creeps them out.
Links
Wikipedia entry.
Anime News Network listing.
Notes
[1] The title is a combination of the names of the manga artist and Dengeki Daioh, the manga magazine in which the strips were published.
[2] Actually this is not totally impossible. There are a few cases on record of child prodigies who earned college degrees in their early teens. (List)